5 so-called health foods you should avoid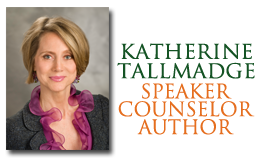 By
Katherine Tallmadge
, Published: February 28
Eating healthy can be harder than you think, thanks to an enterprising food industry that wants us to consume more than we need. That's because our country's agricultural system produces twice what most people require, according to the U.S. Department of Agriculture's Economic Research Service. This encourages creative marketing to unload the excess, much of it with minimal nutritional value. As a nutrition consultant, I know that words such as "low fat," "high fiber," "multigrain" and "natural" can fool even the most sophisticated customers into believing what they're buying is healthful. So what can you do? First, make a habit of reading the ingredients list, not just the Nutrition Facts panel. And remember the following products worth resisting.
The oil is the healthiest part of a nut, containing most of the nutrients, so there's no advantage to taking it out. In fact, it's worse because it robs the peanut butter of its health benefits. "Reduced-fat peanut butter has as many calories and more sugar than the regular," says Bonnie Liebman, nutrition director for the Center for Science in the Public Interest.
Instead: Buy regular peanut butter. Eating one or two ounces of nuts daily is associated with reductions in heart disease and cancer risk. A
recent Harvard study
showed that eating nuts is associated with lower body weights.
Enhanced water
Drinks such as Vitaminwater are essentially sugary drinks with a vitamin pill. They are "unequivocally harmful to health," says Walter Willett, professor of epidemiology and nutrition at Harvard's School of Public Health. "Whether vitamins dissolved in water have any benefit will depend on who you are and whether you are already getting enough. . . . Some people may be getting too much of some vitamins and minerals if they add vitamin water on top of fortified foods and other supplements." A recent
Iowa Women's Health Study
found an association between certain commonly used vitamin and mineral supplements and increased death rates.
Instead: Drink water, ideally from the tap ("Eau du Potomac," as it's known locally). It's the best drink for hydrating your body, is naturally calorie-free and contains fluoride to prevent tooth decay. No supplement matches the nutrients in whole foods such as fruits, vegetables, nuts and whole grains.
Energy bars
The reputation of these bars, also known as meal replacement bars, is that they are healthy, aid in weight loss or help build muscle. In fact, they are calorie bombs: candy bars with vitamins, protein or fiber added. For most of them, sugar is either the first (predominant) or second ingredient.
Instead: Snack on fruit or veggies for weight loss and yogurt for muscle gain. If you're hiking a long distance and want a healthful, nonperishable calorie bomb, try nuts and dried fruit.
Multigrain foods
Multigrain breads, crackers and cereals are often the most confusing foods. People see "multigrain" and think "whole grain." That's not necessarily so. This is an important distinction because people who eat whole grains have a lower incidence of diabetes, heart disease and cancers, and are less likely to be overweight compared with those who eat refined grains. Note that when "enriched wheat flour" is listed in the ingredients, that's refined flour.
Instead: Be sure a
whole grain
, such as whole wheat, whole oats or brown rice, is the first and preferably the only grain in the ingredient list. A great example is a cereal listing whole rolled oats as the only grain. Alternatively, consider an egg for breakfast. "The huge amounts of refined starch and sugar that many people eat for breakfast, often thinking that this is the healthy choice, does far more damage to their well-being than an egg," says Harvard's Willett.
Non-fried chips and crackers
It's easy to believe these foods are healthful because of labels such as "baked," "low fat" or "gluten free." But most are made with refined grain or starch, which provide plenty of calories and few nutrients. Popchips, for example, are a new product marketed as healthful. But the ingredients are highly refined potato flakes, starch, oil, salt and about 14 additional things. Pita chips, made with white flour, oil, salt and several more ingredients, are no better.
To boot, research
shows that too much refined grains and starches increases the risk for heart disease, cancers, diabetes and weight gain.
Instead: Try
Wasa
or
Finn Crisp
Original Rye crackers. They're 100 percent whole grain and have little sodium. If you'd like a chip, try
Terra Chips
, made with sliced vegetables, or even a 100 percent whole grain chip fried in a healthy oil, such as olive or canola. Tortilla chips and SunChips are two examples. "Now that trans fats have been removed from most cooking oils, the healthiest part of potato chips is the fat," Willett says. "And chips made of whole grains rather than potatoes, like Frito-Lay's SunChips, can legitimately be considered a health food," so long as you keep to the one-ounce serving size.
Tallmadge is a registered dietitian and the author of "
Diet Simple
" (LifeLine Press, 2011).
Eating More Red Meat May Mean Quicker Death
By Todd Neale, Senior Staff Writer, MedPage Today
Published: March 12, 2012
Reviewed by
Zalman S. Agus
, MD; Emeritus Professor, Perelman School of Medicine at the University of Pennsylvania and Dorothy Caputo, MA, RN, BC-ADM, CDE, Nurse Planner
Action Points
This prospective longitudinal study shows that consumption of both processed and unprocessed red meat is associated with an increased risk of premature mortality from all causes, as well as from cardiovascular disease and cancer.
Substitution of red meat with fish, poultry, nuts, legumes, low-fat dairy products, and whole grains was associated with a significantly lower risk of mortality.
Increasing consumption of both processed and unprocessed red meat was associated with a greater risk of dying during the study period, data from two large, prospective studies showed.
Through up to 28 years of follow-up, each additional serving of red meat per day was associated with a relative 13% to 20% increased risk of all-cause mortality, with the higher risk attributed to processed meats, according to Frank Hu, MD, PhD, of the Harvard School of Public Health in Boston, and colleagues.
It was estimated that 9.3% of the deaths in men and 7.6% of the deaths in women could have been prevented by consuming less than half of a serving of red meat (42 grams) per day, roughly equivalent to about one hot dog, the researchers reported online in Archives of Internal Medicine.
However, 77.2% of men and 90.4% of women consumed more than that during the studies.
Hu and colleagues examined data from the Health Professionals Follow-Up Study, which tracked men ages 40 to 75 at baseline from 1986 to 2008, and from the Nurses' Health Study, which followed women ages 30 to 55 at baseline from 1980 to 2008.
The current analysis included 37,698 men and 83,644 women, all of whom were free from cardiovascular disease and cancer at baseline.
Diet was assessed at baseline and every four years using a food frequency questionnaire. Unprocessed red meat included beef, pork, lamb, or hamburger and processed red meat included bacon, hot dogs, sausage, salami, and bologna.
During follow-up, the amount of red meat eaten declined for both men and women.
There were 23,926 deaths, including 5,910 from cardiovascular disease and 9,464 from cancer.
Consistent with the analysis of all-cause mortality, each additional serving of red meat per day was associated with a greater risk of cardiovascular mortality (HRs 1.18 for unprocessed products and 1.21 for processed products) and cancer mortality (HRs 1.10 and 1.16).
That was after adjustment for several potential confounders, including age, body mass index, alcohol consumption, physical activity levels, smoking status, race, menopausal status and hormone use in women, family history of diabetes, MI, or cancer, personal history of diabetes, hypertension, or hypercholesterolemia, and intakes of total energy, whole grains, fruits, and vegetables.
Additional adjustment for other foods or nutrients yielded similar findings. Adjustment for saturated fat, cholesterol, and heme iron weakened the relationships with cardiovascular mortality slightly, although they remained statistically significant.
The researchers estimated that substituting one serving per day of various other foods -- like fish, poultry, nuts, legumes, low-fat dairy, and whole grains -- for red meat was associated with a 7% to 19% lower risk of dying during follow-up.
In an accompanying commentary Dean Ornish, MD, of the University of California San Francisco, noted that "plant-based foods are rich in phytochemicals, bioflavonoids, and other substances that are protective."
"In other words," he wrote, "what we include in our diet is as important as what we exclude, so substituting healthier foods for red meat provides a double benefit to our health."
Hu and colleagues said that the saturated fat, cholesterol, heme iron, sodium, and nitrites in red meat might explain some of the risk of cardiovascular death, and that some compounds either found in red meat or created by high-temperature cooking -- including nitrosamines, nitrosamides, polycyclic aromatic hydrocarbons, and heterocyclic amines -- are potential carcinogens and might explain some of the risk of cancer death.
They acknowledged that the study was limited by potential errors in measuring red meat intake and by the uncertain generalizability of the findings outside of the study population, which was predominantly non-Hispanic white health professionals.
The study was funded by grants from the NIH and by a career development award from the National Heart, Lung, and Blood Institute.
The study authors reported that they had no conflicts of interest.
From the American Heart Association:
Diet and Lifestyle Recommendations: Revision 2006
Science News from EPI/NPAM 2011: Changes in Fish and Meat Intake after Medical Diagnoses in Men and Women
Primary source: Archives of Internal Medicine
Source reference:
Pan A, et al "Red meat consumption and mortality: results from two prospective cohort studies" Arch Intern Med 2012; DOI: 10.1001/archinternmed.2011.2287
.
Additional source: Archives of Internal Medicine
Source reference:
Ornish D "Holy cow! What's good for you is good for our planet" Arch Intern Med 2012; DOI: 10.1001/archinternmed.2012.174
.
Red Meat Increases Risk Of Cancer, Heart Disease And Death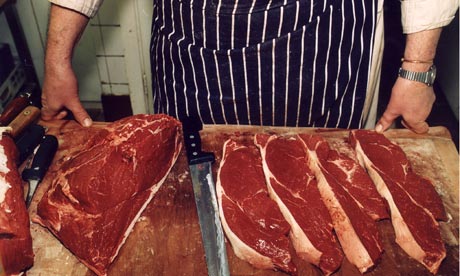 Red meat is blamed for one in 10 early deaths
Red meat boosts risk of dying young: study; Just one portion of processed meat boosts death risk by 20%